$10.99 $29.80
Screws: 2 holes reserved on the base for drilling setup on the wall.
Spike: assemble as manual, and insert the Halloween light into the ground.
Stand Base: after assembly, and place the holiday light projector on the table.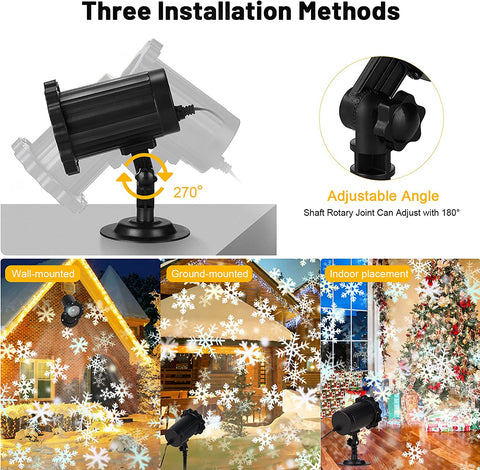 Fantastic Snowflake
The patterns projected are clear and three-dimensional. Snowflake appears and disappears gradually, to create a fine and dynamic effect which lead you to a fairyland full of snow.
Christmas Gift
Light projector outdoor is a wonderful gift for family, friends, and kids on any special day. They will be fascinated by snowfall at the first sight, and exclaim in delight.
Great Decoration
How impressive it would be when snow fills the entire bedroom, ceiling, or wall! Terrific for decorating Halloween, Thanksgiving, Christmas, birthday, or wedding party.